In this post of "Jessica's Social Media 'Likes'" – LinkedIn's New Social Ads, Google+ Galore, "The New Twitter," Yelp Deals, Foursquare Business Pages, and so much more. Get ready to "like!"
Google has added Games to its Google+ platform.
Google states in it's announcement that Google+ is "…giving you control over when you see games, how you play them and with whom you share your experiences. Games in Google+ are there when you want them and gone when you don't."
For those of you who love playing games with friends online, you can get to the games section of Google+ by clicking on the Games icon at the top of your page.
Since January 2010, Foursquare has been creating hand-coded pages for specific businesses. As of August 2, 2011, businesses will be able to create their own brand page.
Here are links to a few of the most popular Foursquare business pages: MTV, History Channel, BRAVO, Starbucks, and we can't forget Intel – the first Foursquare Business Page.
To get your very own business page, visit https://foursquare.com/create_page
Great article talking about the effect Google+ will have on Content Marketing.
Google announced in a June 7, 2011 blog post that they will support authorship markup that will allow them to connect content to Google profiles.
They include a great list of things to do in preparation for this change in the "How to Take Advantage Now" section of their post.
Klout has added more networks to its initial Facebook, Twitter, LinkedIn, Foursquare, and YouTube offerings.
The new social networks are Blogger, Tumblr, Last.fm, Instagram, and Flickr.
A great article from Search Engine Watch regarding some changes to LinkedIn's ads – these changes have been evolving since June.
LinkedIn's new social ads show people in your network that follow a given advertiser. The initial ads include both names and photos of those people; however, LinkedIn has now changed those ads to only state how many people in your network follow the advertiser.
The post "Ads enhanced by the power of your network" by LinkedIn's Ryan Roslansky includes information on how to opt out of these types of ads.
So this is just interesting – won't really help you with your social media business endeavors, but if you're looking for a social related game, Empire Avenue may be the ticket.
This game allows you to "buy stock" in people based on their social Klout.
Haven't tried it yet, but it could be fun.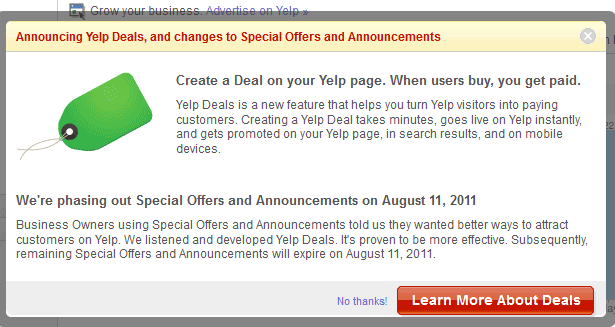 Yelp now has Yelp Deals. Woo Hoo! Like we didn't have enough deal sites as it was. Oh well…
What's really interesting is that they're taking away the option to put announcements / special offers on your Yelp Profile. I understand the special offers – but the announcements?
Something else to note, it seems, that they may be keeping the announcements around for those business that advertise with them.
New Stuff for Twitter
There have been several new posts regarding the "new" Twitter over the past few weeks.
One of which was actually called "Meet the New Twitter," which states "You will now find @mentions, retweets, searches, and lists just above your timeline – creating a single, streamlined view on the left of the screen. On the right, you can see the features you're familiar with, including whom you recently followed and who recently followed you, favorites, and Trending Topics."
The most recent article, "Show me more," states one of these changes has already changed. @mentioned is now @username and will show you "which of your Tweets are Favorites, plus the latest Retweets (of your Tweets), Tweets directed to you, and your new Followers."
They are also including a new "activity" area that will show you "the latest Favorites, Retweets, and Follows from the people you follow on Twitter."
Twitter is also making adding a photo to your tweets easier – see the how to at https://support.twitter.com/articles/20156423
They also created a strange little video to help us all understand how to use The New Twitter. Enjoy!
Did you "like" something that I missed? Add it to the comments below. Check out more of my likes on my StumbleUpon Profile
Amplify Interactive offers Social Media Marketing services for small to medium sized businesses. Contact us today to chat about your Social Media Marketing strategy.